Announcements
CMC Research Brownbag presents Prof. Paul Michael Leonardo Atienza, MA.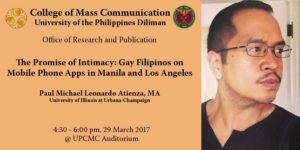 Prof. Atienza will discuss "The Promise of Intimacy: Gay Filipinos on Mobile Phone Apps in Manila and Los Angeles" on 29 March 2017 at 4:30 pm at the UP CMC Auditorium
Paul Michael (Mike) Leonardo Atienza, M.A., is a doctoral candidate in the department of anthropology with a graduate certificate in gender and Women's Studies from the University of Illinois at Urbana-Champaign. Before coming to Urbana-Champaign, he worked for many years as an academic advisor at the University of California, Riverside and served in leadership roles for the College of Humanities, Arts, and Social Sciences Student Academic Affairs Office, the program in Southeast Asia: Text, Ritual, and Performance, and the UCR LGBITQ community. In addition to his digital media research, Mike performs with the U.S.-based Indonesian keroncong ensemble, Orkes Pantai Barat, and collaborates with drag performance artist Aloha Tolentino. He received his MA in Southeast Asian Studies (2010) and BA degrees in music and English (2002) from the University of California, Riverside.